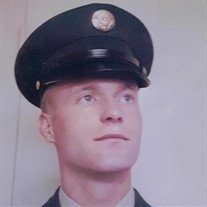 Frank Edward Burnette, 69, of Waldorf, Maryland died on December 14, 2018 at his home surrounded by his loving family. Known, fondly as Frankie, Mr. Burnette was born on June 4, 1949 in Cheverly, Maryland to the late Katherine Taylor Burnette Thompson and Jason L. Burnette. He served in the U. S. Army during Vietnam and was awarded the National Defense Medal, Vietnam Service Medal and Vietnam Campaign Medal with 60 Device. SP5 Burnette was Honorably Discharged in 1971. He then became a plumber and worked for the Federal Government for many years. He was a "gadget guy" who liked the newest electronic gizmo and would often spend time repairing those items when they needed it. Mr. Burnette enjoyed being outdoors, photography, his '69 Chevrolet Corvette, his cats Sasha and Bruno and spending time with his grandchildren.

In addition to his parents, Mr. Burnette was preceded in death by his step-father Harold Lloyd Thompson Sr.; sister Tracy Lee Burnette-Keech . He is survived by his wife of 50 years, Linda M. Burnette; daughters Cathern J. Deckert and her husband Louis, Tiffiny J. Knight and her husband Gary, Billie Jo Clower and her husband Mark; grandchildren Brittney A. Bowman, Adam M. knight, Zachary T. Knight, Alyssa N. Knight, Kayden M. Knight, Hollie C. Deckert, Heather M. Deckert, Leslie L. Hyde, Krista E. Gaugler, and Mark A. Clower; great grandchildren Bryan M. Bowman, Carly R. Bowman, Jason A. Bowman, Zoey G. Knight, Haven G. Knight, Madeleine D. Hyde, Rylee W. Gaugler, Ayden L. Gaugler, and Roxas Clower; brothers Harold Lloyd Thompson Jr. and his wife Mary, Leroy Lloyd Burnette and his wife Rose.

Services and interment will be private. Memorial contributions may be made to your local VA Medical Center. Arrangements by Raymond Funeral Service.