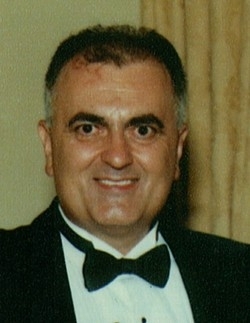 Daniel Popgoshev, 67, of California, MD passed away Friday, December 7, 2018 at St. Mary's Hospital in Leonardtown, MD after a 5 month struggle with cancer. Born in Bitola, Macedonia he grew up in the Pittsburgh, PA area and lived in Ewing before moving to Maryland in 1995. He was an Aerospace Engineer with the Naval Air Station Patuxent River in Lexington Park, MD. He was a graduate of Penn State University, Class of 1975.

Son of the late Dimitar and Ratka Ristoff Popgoshev, he is survived by his wife of 30 years, Elizabeth Anne Gavigan Popgoshev; his beloved daughter, Anne Marie Popgoshev of Arlington, VA; his sister and brother-in-law, Connie and Ronald Gering of New Hope, PA; 6 nephews, Michael, Anthony and Brian Piscopo, Matthew and Benjamin Gering, and Edward Sheldon; 12 great nieces and nephews; brother-in-law, J. Patrick Gavigan; sister-in-law, Kathleen M. Sheldon, and extended family.

The family will receive friends on Friday from 9:30 - 10:45AM at the Church of the Incarnation, 1545 Pennington Road, Ewing, NJ 08618. Mass of Christian Burial will be celebrated in the church at 11AM followed by burial in Ewing Church Cemetery. Memorial contributions in his name may be made to the American Cancer Society. Arrangements by Brinsfield Funeral Home.