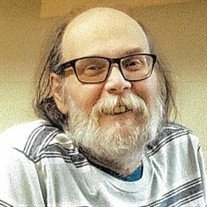 William Thomas "Billy" Davis, 59, of Waldorf, MD died on December 10, 2018 in La Plata, MD. Billy was a lifetime resident of Charles County and worked at Camp Springs Auto Parts for 23 years. He loved classic rock music, especially KISS, AC/DC, and Aerosmith. He was an avid science fiction reader and enjoyed strategic computer games. In his spare time, Billy also enjoyed cooking and learning new recipes.

Billy is preceded in death by his father, William Thomas Davis, Jr. Billy is survived by his mother, Cecelia Anne Davis; brother, John Edward Davis (Lisa); sister, Dawn Marie Davis (Mike); nieces, Ann Ramos (John) and Jennifer Everhart (Patrick); and his nephew, Michael Everhart (Fern).

All services for Billy are private. Memorial contributions in his name can be made to the American Kidney Foundation (30 East 33rd St., New York, NY 10016). Arrangements by Raymond Funeral Service.