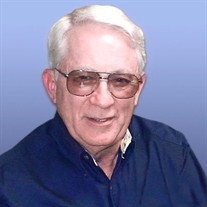 James Chester Roberts, 78, died December 10, 2018 at his home in White Plains, MD, after a long struggle following his stroke over four years ago. The family will receive family and friends on December 12, 2018 at La Plata United Methodist Church in La Plata, Maryland from 2-4 pm and 6-8 pm. The funeral services will be held at La Plata United Methodist Church in La Plata, MD on December 13, 2018 at 10:00 am with interment at the La Plata United Methodist Church Cemetery in Dentsville, MD. A celebration of life will follow at the Church. Memorial contributions can be made in his name to the La Plata United Methodist Church (LPUMC) Building Fund P. O. Box 2824 La Plata, MD 20646.

James Chester, "Jimmie," Roberts was born on July 9, 1940 in Washington, DC and is predeceased by his parents James Darg Stewart Roberts, Jr and Ethel Ruth Jones Roberts. He worked at the Library of Congress for 41 years beginning as a mail clerk and finishing his career as Section Head of the Reference and Bibliography Division of the Copyright Office in 2001.

He is survived by his wife of 57 years, Dorothy Marie (Rollins) Roberts; children Laurie (Tim), James Jr. (Corrie), Paula, Steven (Amy), and Alexandra (James); and grandchildren Cameron, Samantha Chiriaco, James Chiriaco II, Luke, Adam, Nicholas, William, Alexander, Benjamin, Carly, James III (Trey), and Donovan.