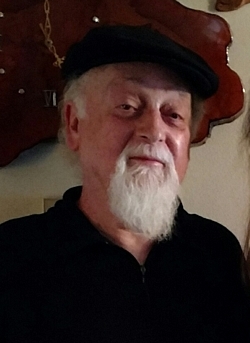 Joseph Ronald "Ronnie" Richardson, 68, of Lusby, MD and formerly of Capitol Heights, MD, passed away on December 6, 2018 at his residence. Born December 11, 1949 in Washington, DC, he was the son of the late Alfred William Richardson and Lillian Mary (Tippett) Richardson.

Ronnie graduated from Central High School and moved to Calvert County from Anne Arundel County in 1986. He married his wife, Vicky Ann (Barnett) Richardson on May 4, 1989 in Alexandria, VA. Ronnie was an Exhibition Specialist for over thirty years at the National Gallery of Art, retiring in 2013. He was a member of the American Legion and the National Rifle Association and enjoyed hunting, golf, race cars, pool, darts, poker and horse shoes.

Ronnie is survived by his wife, Vicky Ann Richardson; his son, Ronald Richardson and wife Lyndel of California, MD; grandchildren, Laura, Jessica and Cameron Richardson; and his siblings, William Richardson of Washington, DC, Johnny Richardson of Morningside, MD, David Richardson of MD, Betty Gonzalez of Greenbelt, MD and Robert Richardson of Croom, MD. He was preceded in death by his sister, Barbara Ann Sutton.

Family will receive friends on Thursday, December 13, 2018 from 2:00 p.m. until 4:00 p.m. and 6:00 p.m. until 8:00 p.m. at Rausch Funeral Home, 20 American Lane, Lusby, MD 20657 where a Funeral Service will be conducted by Pastor Dave Mohler of Life Church on Friday, December 14, 2018 at 11:00 a.m. Interment will follow in Chesapeake Highlands Memorial Gardens, 3270 Broomes Island Road, Port Republic, MD 20676. Serving as pallbearers will be Ronald Richardson, John Henrichs, Steve Sanridge, John Hotchkiss, Belmont Thomas and Merl Leach.