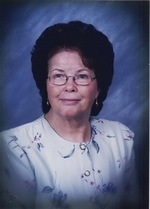 Betty Ann Langley, 83, of Great Mills, MD formerly from Suffolk, VA passed away on December 6, 2018 at her home. She was born on December 24, 1934 in Suffolk, VA. Betty was the daughter of the late Edna Lee Stanley and Letcher Lonza Stanley. Betty was the loving wife of Charles Cordell Langley, Sr. whom she married on April 8, 1950 in Lexington Park, MD.

Betty is survived by her children, Charles Langley Jr. of Great Mills, Julie (Dean deceased) Hinthorne of Port Orchard, WA, Debbie Langley of Great Mills, MD, Susan (Francis) Trossbach of Great Mills, MD, Charlene (Eddie) Knott of Great Mills, MD, Linda (Pat) Ridgell of Great Mills, MD, Robin (Robert) Butterfield of Great Mills, MD; 10 grandchildren, 8 great grandchildren, and 1 great- great grandchild, also survived by one brother, Raymond Crosby of FL. Betty Was preceded in death by her brothers, Curtis Lee Stanley and Gerald Crosby.

Betty moved to St. Mary's County in 1946 from Suffolk, VA, she was a homemaker. Betty was a member of the Lexington Park Baptist Church, where she taught Sunday school and volunteered in the nursery, she also volunteered for St. Mary's Hospital Auxiliary creating floral arrangements and wreaths for the gift shop. Betty enjoyed bowling, bingo traveling especially her trips to the West Coast to visit her daughter and her family. Betty often stated that her favorite times were spent celebrating the holidays and family birthdays. She was loved by all that knew her and will be greatly missed.

The family will receive friends on Tuesday, December 11 from 11:00AM to 12:00PM in the Mattingley-Gardiner Funeral Home, P.A., Leonardtown, MD where a Funeral service follow at 12:00PM with Pastor Joe Fessler officiating. Interment will follow in Holy Face Catholic Cemetery, Great Mills, MD.