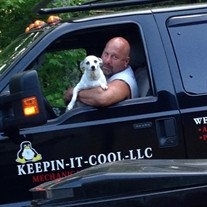 Michael Anthony Laciny, 53, of Waldorf, MD passed away on November 17th of complications from esophageal cancer. He was born on September 19, 1965 at Prince George's Hospital Center in Cheverly, MD to Joseph Edward Laciny, Jr. and Mary Ann (Tapponnier) Laciny. He was the brother of Joseph E. Laciny III. He was preceded in death by his mother and brother. He leaves behind his beloved family, his wife of 29 years, Linda A. Laciny, two children, James M. Laciny and Brittany M. Laciny, two grandchildren, Zoe and Nathan Laciny, and his cherished dog, Otis.

Mike was a graduate of McDonough High School where he earned a football scholarship. From there he went on to work for his family owned heating, ventilation, and cooling business, Sta-Cool, Inc. In 2002, he started his own HVAC company, Keepin It Cool, LLC, and continued to grow its brand from a small shop to a larger business.

He held Master HVAC licenses in Maryland, Washington, D.C., Virginia, Delaware, and Anne Arundel County, and was also a Master pipe welder. Mike was an avid weight trainer, and competed as a power lifter, winning numerous awards. He also liked the outdoors, especially hunting in the mountains in Oldtown, Maryland. In lieu of flowers, the family is requesting donations be made in his name to The Humane Society of Charles County. www.http://humanesocietycc.org/donate/.