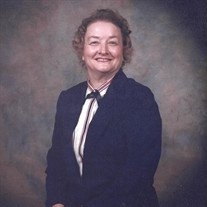 Anna Belle (Alsup) Boswell was born on December 8, 1924 in Ava, Missouri. She died at her home in Nanjemoy, Maryland at the age of 93 on November 24, 2018.

Anna's career began when she saddled her horse Topsy, rode to Douglas County's one room school house and taught students in grades 1 through 8. Her patriotism and sense of adventure led to enlistment in the Women's Army Corps. After military service, Anna transferred to the Pentagon where she met and married Elwood Boswell. Together they raised a family and after more than 30 years of government service Anna retired from the Department of Labor.

Anna's curiosity, love of learning, and tenacity encouraged the development of her many talents. Inspired by a river vista, she created numerous paintings. In winter she liked to knit hats, sweaters, scarves, and socks. Her gardening and cooking skills produced delicious fresh fruit pies, dilly beans, fried okra, ratatouille, dandelion wine, and many other family favorites. Passionate about music and theater, Anna was a successful starring actress with the Port Tobacco Players. Her feisty spirit and tough but fair nature will never be forgotten and is well reflected in her family and all whom she lovingly invested herself.

She was the daughter of Charles Noel Alsup and Trilby Vivian Estes. In addition to her parents, she was also predeceased by her husband, Elwood S. Boswell; her brother, Charles; and her sister, Grace. She will be greatly missed by her brother Tom; her sister, Jane; her daughters, Cindy and Carol; five grandchildren; five great grandchildren; and a host of others.

A private family celebration of life will be held at a future date. Memorial donations may be made to: Hospice of Charles County, 2505 Davis Road, Waldorf, Maryland 20603 or the National Aphasia Association, PO Box 87, Scarsdale, New York 10583. Arrangements by Raymond Funeral Service.