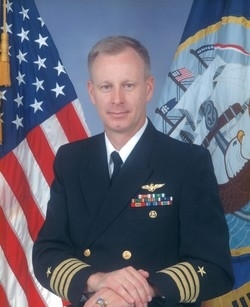 CAPT Zachary "Bo" Adolphus Henry Jr., 63, lifted off for his last flight into the heavens when he died peacefully at his home in Leonardtown, Maryland on November 23, 2018, after a long battle with myelodysplastic syndrome. A retired Captain of the United States Navy, he held two commands over the course of his 29-year naval career, most recently as Commanding Officer of Patuxent River Naval Air Station in Patuxent River, Maryland and received numerous awards, including the Legion of Merit, Meritorious Service Medal (3 stars), Humanitarian Service Medal, and the Navy and Marine Corps Commendation Medal, among others.

CAPT Henry was born on December 13, 1954, at Patuxent River Naval Air Station to Zachary and Norma Henry. A graduate of Gibbs High School in Corryton, Tennessee, he entered the Naval Academy in 1973 and studied aeronautical engineering, graduating in the class of 1977. After commissioning, he won a scholarship to earn his Master's degree in Engineering Mechanics from Columbia University in 1978. He was then stationed to Naval Air Station Pensacola in June 1978 where he graduated from flight school as a designated naval aviator in November 1979.

Between 1979 and 1992, CAPT Henry served as a naval aviator flying helicopters across the world on various assignments. From 1992 to 1995, CAPT Henry was stationed at Naval Air Station North Island in Coronado, California, where he served as the executive and then commanding officer of HSL-49. He next served as Navigator for the aircraft carrier USS John F. Kennedy (CV 67) from 1995 to 1997. After several assignments at Patuxent River National Air Station, he served as executive and then commanding officer of Patuxent River National Air Station from 2002 to 2006. He retired with full honors in 2006 after serving in the United States Navy for 29 years, 4 months, and 23 days.

Apart from his military duties, CAPT Henry enjoyed serving his community as he sat on the church council at St. Francis Xavier Catholic Church and coached baseball for St. Mary's American Little League.

CAPT Henry was a dedicated and respected officer, as well as a patient and loving father and husband. He is survived by his wife, Ruth; his sons, Zachary (Breanna), Matthew (Jessica), Phillip (Rebecca), Samuel, Benjamin and Daniel (Jadelyn); his daughter Hannah (Justin); his grandchildren, Wesley, James and Madeline; his mother, Norma; and his siblings, Lydia Glafenhein (Steve), Lynn Moore (Doug), Nathan Henry (Melissa), and Stephen Henry (Suzanne). He is preceded in death by his daughter, Angela, and his father, Zachary Henry, Sr.

A viewing for CAPT Henry will be held from 2-5 PM on December 2, 2018, at Brinsfield Funeral Home, 22955 Hollywood Rd, Leonardtown, MD 20650, with the final burial to occur at Arlington National Cemetery at a later date. A memorial service will be held on December 3, 2018, at 10:00 AM at Saint Francis Xavier Church, 21370 Newtowne Neck Rd, Leonardtown, MD 20650. In lieu of flowers, donations may be sent to the International Mission Board in memory of CAPT Zachary A. Henry, Jr. at give.imb.org, or IMB, 3806 Monument Avenue, P.O. Box 6767, Richmond, VA 23230-0767.