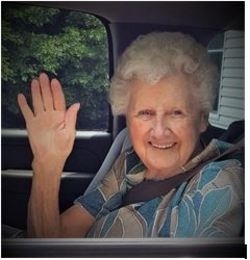 Mary Katherine Murphy-O'Neill, age 87, a resident of Hughesville, Maryland passed away on November 24, 2018 at Calvert Memorial Hospital. Wife of Ralph Harrison (Jim) Murphy (deceased) and Thomas T. O'Neill. In traditional Irish manner Mary had a large family, both growing up, and of her own.

Mary was the mother of Shane, (Patricia) Murphy, Colleen (John) Lynch, Timothy (Laura) Murphy, Brian (Susan) Murphy, Ann Marie (Barry) Usher, and Martin (Carla) Murphy. The Grandmother of Jennifer (Tom) Ellingham, Katherine Byers, James (Lyssa) Murphy, Brian (Jamie) Byers, Michael Murphy, Devin Murphy, Shannon Murphy, Sarah Murphy, Hannah Usher and Erin Murphy. The Great-Grandmother of Daniel, Reagan, Barry, and Allison Byers. Step Children Thomas O'Neill, Kathy (Douglas) Laird, Donald (Betty Ann) O'Neill, Phillip O'Neill and 11 step grandchildren and 1 step great-grandchild.

Mary was born September 25, 1931 in Tauton, MA, to Thomas Joseph and Mary Elizabeth (Molly McKenna) Murphy. She is preceded in death by her brothers James, and Charles, her sisters Margaret, Agnes, Eileen, and Ann. She is survived by her brother Thomas Murphy of Stoneham, MA, and brother in law H. Joseph Maney of Lynnfield, MA. Mary will always be remembered by her numerous amazing nieces and nephews, great nieces and great nephews who lovingly called her "Mary Darlin'"

Mary gave 26 years to the Prince George's County Board of Education Department of Transportation. She started as a driver and worked her way up over the years to lot Foreman then as Supervisor. Mary loved her job so much that even after she retired and moved to DE she went back to driving a school bus for three more years!

While in DE, she was active in the Elk Lodge, Moose Lodge, The America Legion, and Queen Mum of the Red Hat Society. That is also where she met her husband Tom. He too was a widower and they struck up a friendship. She cooked, and he mowed the lawn, what a team! At the wonderful age of 71, Mary and Tom eloped and tied the knot in Florida on Valentine's Day 2001 with her sister Ann and brother in law Joe as witnesses. Tom and Mary moved to Hughesville, MD in 2010.

Our hearts are heavy with selfish loss but rejoice in knowing she is at peace. The family requests that in lieu of flowers: Please enjoy a toast in Mary's honor with an Irish Coffee. Graveside Service for Mary will be on Tuesday, December 4th at 1pm at Maryland Veterans Cemetery, 11301 Crain Highway, Cheltenham, MD 20623. Arrangements by the Brinsfield Funeral Home, P.A., Charlotte Hall, MD.