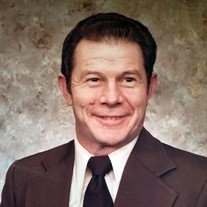 Paul Aubrey Willett went to be with the Lord on November 24, 2018. He is the beloved husband to Betty Willett. Father to Russell Willett of Frederick, MD, Julie Baker (Richard) of Frederick, MD, Debra Shatrowsky (Joseph) of Calvert County Prince Frederick, MD, Terrie Wilson (Kevin) of La Plata, MD, Timothy Ballenger (April) of Harper's Ferry, MD, Paul Ballenger of Prince Frederick, MD, Anthony Willett of Upper Marlboro, MD, and the late Kelly Ballenger. Brother of Dorothy Gilmore, late Grace Powell, late Agnes King, late Howard Willett, and the late Harold Willett. Paul is also survived by his 11 grandchildren and 12 great grandchildren and a host of nieces and nephews.

Paul was born in Maryland to the late Aubrey Willett and the late Mary Gambill. Even though he was a Maryland resident he grew up in the D.C. area. After graduating from high school Paul joined the US Army until he was honorably discharged in 1962. After leaving the Army he spent the next 30 years working as an executive accountant for The University of Maryland.

Paul met his wife Betty in Charlestown at the horse races. Paul himself owned 26 thoroughbred race horses. His friends and family liked to describe Paul has a laid back and easy going person. Besides his love for horses he also enjoyed playing poker with friends as well as playing golf even though he was more of a putter than a golfer.

In lieu of flowers the family asks that contributions be made to St. Mary's of the Assumption Catholic Parish on 14908 Main Street, Upper Marlboro, MD 20772. Arrangements by Lee Funeral Home.