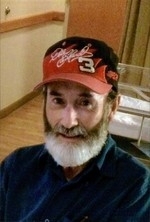 Thomas Marvin Burroughs, "Pop" 71 of Mechanicsville, MD passed away on November 23, 2018 in Leonardtown, MD. He was born on August 11, 1947 in Leonardtown, MD and was the son of the late Clara Thompson Burroughs and George Burroughs.

Pop is survived by his children Melissa Anne Burroughs Alvey of Mechanicsville, MD, Andrea Faye Nelson of Mechanicsville, MD, grandchildren Lacie Kaye Price, Cidney Nichole Rogers, Lane Tyler Price, Summer Lee Nelson, Amber Marie Buckler, and Nevaeh Crystal Burroughs. As well as, his two brothers and 3 sisters. In addition to his parents, Pop was preceded in death by a sister.

A lifelong St,. Mary's County resident, Pop worked for the Federal Government as an electrician for 30 years, retiring in 2002. He loved crabbing, cutting and delivering wood. Pop enjoyed spending time with his family, grandchildren and attending his grandchildren's sporting events.

The family will receive friends on Thursday, November 29, 2018 from 8:00 to 9:00 AM in the Mattingley-Gardiner Funeral Home, Leonardtown, MD. A Funeral Service will follow at 10:00 AM in the Funeral Home Chapel with Father David Beaubien officiating. Interment will be private. In lieu of flowers contributions may be made to Alzheimer's Association National Capital Area 513 E. Charles Street P.O. Box 1889 La Plata, MD 20646.