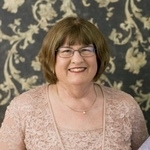 Linda Margaret Buffenbarger, 72 of Brookeville, MD formerly from Valley Lee, MD passed away on November 20, 2018 in Washington, DC. She was born on June 25, 1946 in Valley Lee, MD she was the daughter of Margaret Ernestine Hewitt and the late James Wellington Hewitt. Linda was the loving wife of R. Thomas Buffenbarger whom she married on November 29, 1980 in Cincinnati, OH.

Linda is survived by her children Amy Buffenbarger Jordan, and her husband Casey Jordan of Riverdale Park, MD, Andrew Robert Buffenbarger, and his wife Casey Buffenbarger of North Beach, MD, 3 grandchildren; Stella, Miles and Eli Bruce. Along with her siblings, Timothy David Hewitt, and Diane Marie Hewitt.

She graduated from Great Mills High School in 1964. Linda was a wife and homemaker. Linda was an avid reader, and gardener. In addition, she enjoyed traveling near and far.

The family will receive friends on Wednesday, November 28, 2018 from 5:00 PM to 8:00 Pm with prayers recited at 7:00 Pm in the Mattingley-Gardiner Funeral Home, Leonardtown, MD. A Mass of Christian Burial will be celebrated on Thursday, November 29, 2018 at 10:00 AM in Holy Face Catholic Church, Great Mills, MD with Father David Beaubien officiating. Interment will follow in the church cemetery. Her pallbearers will be Andrew Buffenbarger, Casey Jordan, Tad Buffenbarger, Tim Buffenbarger, Kurt Buffenbarger, Joe Sagel and Ronny Armsworhty.