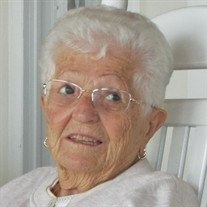 Anna Jameson, of La Plata, Maryland passed away on November 23, 2018. She was 95. Born in Germany on August 7, 1923 in the Bavarian village of Keunzing, Anna was the younger daughter of George Wimberger and Theresa Kuehmeier. The Wimberger family emigrated to the United States in 1927, and soon made their way to Southern Maryland. They raised their girls on a tobacco farm in Waldorf.

Anna graduated from La Plata High School in 1940 and, as a young woman, she worked at Southern Maryland Oil (SMO) Company. It was there that she fell in love with Edward Lee Jameson, a shy but handsome young truck driver. They were married in March of 1944.

Anna and Ed made their home in Waldorf, where they raised six children. Ed carved out a career with SMO, while Anna balanced childrearing with part-time work, first in the library of Waldorf Elementary School and later at Southern Maryland Gas Company. They were fortunate to retire young and have another 30 years together. In those years they enjoyed many winters in Myrtle Beach, indulging a mutual fondness of golf and warm weather. Anna gave of her time, volunteering at the Charles County Nursing Home and counseling cancer survivors (she was a three-time survivor herself).

If Anna and Ed had one true passion, it was dancing. Swing was their musical genre of choice, but they danced to any song with equal grace. They were a joy to watch and made every dance, wedding, and party they attended more fun for everyone. In 1999, Anna and Ed moved to the Maples Senior Community in La Plata, continuing their life together there until Ed's passing in May 2015.

In addition to her husband of 71 years, Anna was preceded in death by her parents; her sister, Theresa Eastman; and one grandchild, David Lee Jameson. Her six children survive her - Tom (Carlyn), Catherine, Rita Trapani (Joseph), Nancy, George (Dee), and Ronald (Diane). Anna also leaves seven grandchildren, ten great grandchildren, two great great grandchildren, and more than 35 nieces and nephews (Wimberger and Jameson clans combined).

Anna will be honored with a Visitation on Thursday, November 29, 2018 from 5:00pm - 8:00pm, with a Wake Service at 7:00pm, at Raymond Funeral Service, P.A., 5635 Washington Avenue, La Plata, MD 20646. A Funeral Mass will be held on Friday, November 30, 2018 at 10:00am at Sacred Heart Catholic Church, 201 St. Mary's Avenue, La Plata, MD 20646. Anna and Ed will be interred together on March 19, 2019, their 75th wedding anniversary. In lieu of flowers, the family suggests donations to Hospice of Charles County, 2505 Davis Road, Waldorf, MD 20603.