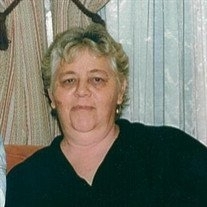 Phyllis Alleta Gilroy, age 76, of Nanjemoy, MD died on November 24, 2018. Phyllis was a Homemaker and a longtime member of the First Baptist Church of Welcome. She enjoyed solving word search puzzles in her free time. She most enjoyed spending time with her grandchildren and great-grandchildren.

She was daughter of the late Harry Riley Jefferson and the late Mildred Catherine Spicer Jefferson. In addition to her parents, Phyllis was preceded in death by her loving husband, Clifton Lee Gilroy; two brothers, Kenny Jefferson and Frank Jefferson; and one sister, Elizabeth Wedding.

Phyllis is survived by her two sons, Rex Gilroy and his wife Mickie and Steve Gilroy and his wife Catherine; three daughters, Peggy Gilroy-Day, Donna Gilroy, and Debbie Gilroy; thirteen grandchildren, Penny, Tabitha, Sabrina, Shannon, Kenny, Tiffany, David, Cyra, Shayla, William, Clifton, McKenzie, and Mason; and nine great-grandchildren, Danica, Riley, Kelly, Edward, Nicholi, Jayden, Samiyah, Joe, and Aiden.

Friends will be received on Monday, December 3, 2018 from 2:00pm-4:00pm and 6:00pm-8:00pm, with Wake Service at 7:00pm, at Raymond Funeral Chapel, 5635 Washington Avenue, La Plata, MD 20646. An additional Viewing will be held on Tuesday, December 4, 2018 from 10:00am until time of Funeral Service at 11:00am at First Baptist Church of Welcome, 6735 Port Tobacco Road, Welcome, MD 20693. Interment will follow at the Gilroy Family Cemetery in Nanjemoy, MD. In lieu of flowers, memorial donations in Phyllis' name are asked to the First Baptist Church of Welcome, P.O. Box 107, Welcome, MD 20693.