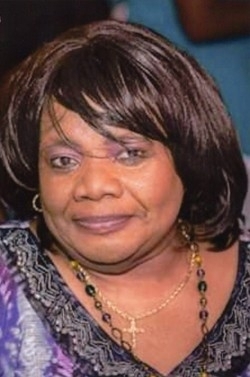 Octavia Irene Gantt (aka Tay) was born on May 29, 1948 to the late Sara and Marcus Gantt. Tay was the youngest of ten siblings. On November 16, 2018 at the age of 70 while at home, Octavia was called home to be with the Lord while surrounded by her lovely family. On June 5, 1965 she married Walter Waul Sr. aka Dick. They were blessed with four children. Even after their divorce, she and Dick still remained to have a great lovely friendship. Her favorite gospel hymn was "Your Grace and Mercy" and scripture Psalm 23.

Octavia was educated in the Calvert County Public School system. She was a graduate class of 1967, the first inter-racial class of Calvert High School. She was a care taker for 30 years until her retirement. Her hobbies were watching channel USA, playing cards, taking care of her great granddaughter Myashia Colman and listening to her favorite song "She's a Bad Mama Jama". Oh how her face would light-up and her lips turn up whenever she heard this song.

Tay was preceded in death by her parents Sarah and Marcus Gantt; siblings: Thomas Gantt, James Gantt, Romans Gantt Sr., Marcus "Boo" Gantt Sr. and Robert Gantt. Sister-in-law Audrey Gantt.

Octavia leaves to cherish her memories: two daughters: April S. Fenwick "Lisa" and Amanda V. Price; three sons: Walter Tyrone Waul Jr. "Mojo", Thomas Johnson Jr. "TJ" and Wayne Darnel Waul; one adopted son Delaceyo Barnes; two sons-in-laws; Mark Fenwick and James Price Sr., fifteen grandchildren: Tamecia Commodore, LaShawnda Scriber, MaShawnda Scriber, Robert Morgan, Crystal Janey, Laketa Price, James Price Jr., Justine Waul, Walter "Pooh" Waul, Wayne Waul Jr., Siearra Waul, Tigeona Waul, Shontae Waul, Sarah Waul and Lechia Johnson; twenty-five great grandchildren; one great-great grand; three sisters: Lee Audrey Boone, Doris Janey and Eleanor Gantt "Big Sis", one brother: Joe Gantt; five sisters-in-law: Emily Gantt, Rosie Gantt, Chris Gantt, Mary Francis Gantt and Judith Gantt; one goddaughter: Eureka Bourne "Reka": one special niece: Sara Lee Janey and host of nieces, nephews, cousins and friends.

Family will receive friends on Saturday, November 24, 2018 from 9:00 to 11:00 a.m., with a funeral service at 11:00 a.m., at the Brinsfield Funeral Home, P.A., 22955 Hollywood Road, Leonardtown, MD 20650. Interment will follow at Charles Memorial Gardens, 26325 Point Lookout Road, Leonardtown, MD 20650. Arrangements by the Brinsfield Funeral Home, P.A.