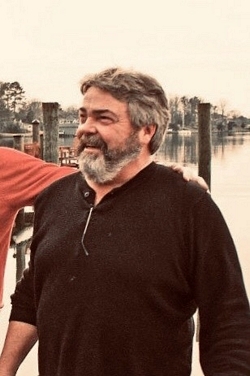 Scott M. Wolfrey Sr., age 57, passed away on Wednesday, November 21, 2018. Scott was born on June 26, 1961 and raised in Bladensburg and Lanham, MD. Eventually residing in Drum Point, Scott first began visiting Drum Point in 1966 with his family. Scott was a waterman and craftsman in practice and heart. He will be missed.

Scott was the son of Elmer F. Wolfrey, Sr. and Naomi Mae (Crawford) Wolfrey. In 1987, Scott married Meg (Duke) Wolfrey; together they raised two children, Scott Michael Wolfrey, Jr. and Nicole Marie Wolfrey. Scott is also survived by three sisters, Joanne Prentiss (Bob), June Santilli (Rocky) and Judy Best (Mike), and his loving fiancé, Jackie Arban Lamberson. He was preceded in death by his parents and two brothers, George Warren Nelson, Sr. and Elmer Franklin Wolfrey, Jr.

A Life Celebration will be held on Saturday, November 24, 2018 at 2:00 p.m. at the American Legion Post 274, 11820 H.G. Trueman Road, Lusby, MD 20657. Arrangements by Rausch Funeral Home.