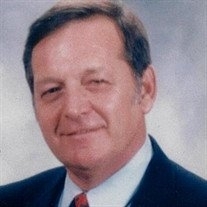 James Frederick "Jimmy" Hoover, age 79, of Waldorf, MD died on November 17, 2018. Jimmy served in the United States Air Force from 1957 to 1962. He was a former owner of The Phoenix Lounge in White Plains during the 1980's and was also in home improvement. Jimmy was a wonderful friend to many and earned the nickname "Noah". He was a jokester and his great sense of humor will be missed immensely.

He is preceded in death by his parents, Lawrence Frederick Hoover and Carrie Estelle Hoover (Burton); two sons, James "Lil Jimmy" Hoover and Billy Fisher; grandson, Bobby Fisher, III; and his three brothers, Raymond, Freddie, and Tommy Hoover. Jimmy is survived by his wife, Virginia "Ginny" Hoover; son, Bobby Fisher; daughter, Brenda Morrow (Phil); sister, Helen Lindsey (Kenneth); granddaughter, Nikki; and great-granddaughter, Julianna.

A viewing for Jimmy will be held at Raymond Funeral Chapel on Monday, November 26, 2018 from 9:30AM until time of service at 11AM. His interment will follow at Cedar Hill Cemetery in Suitland, MD. Memorial contributions in Jimmy's name can be made to Charles County Sheriff's Office (P. O. Box 189, La Plata, MD 20646) or Charles County Volunteer Fire and EMS (P. O. Box 40, La Plata, MD 20646).