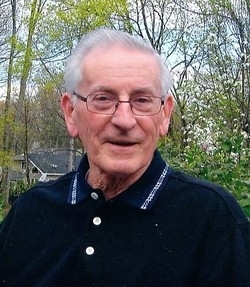 William Anthony "Bill" Morgan, 83, of California, MD passed away peacefully on November 16, 2018 at Charlotte Hall Veterans home with his loving wife, Nancy, and daughter, Mickey and Chrissy, at his side. Bill was born on October 21, 1935, in Philadelphia, PA to the late David A. Morgan, Sr. and Elizabeth Wills Pearigoy Morgan.

On March 23, 1956 Bill enlisted in the United States Navy and proudly served his country until his honorable discharge in October 1957. He was employed as a Computer Engineer for IBM in Philadelphia/Valley Forge PA for over 30 dedicated years until his retirement. While at IBM he earned many awards for his outstanding workmanship. After retiring he worked for Ryder in the Philadelphia area as a school bus driver for Catholic schools. He later worked in St. Mary's County Catholic Schools as a bus driver. He prided himself on having no accidents, as safety was always his primary concern.

On September 16, 1978 he married his beloved wife, Nancy E. Stowe Morgan at Lansdale United Methodist Church in PA. Together they celebrated over 40 wonderful years of marriage. After 13 years of marriage he married Nancy again in the Catholic Church. Together they attend services at First Community Church St. Paul's Campus in Leonardtown, MD and St. John Francis Regis Catholic Church in Hollywood, MD, since they moved here in the year 2000.

Bill's hobbies included travelling to the beach, especially Myrtle Beach where they would take yearly vacations. He was an avid Philadelphia Phillies fan. He and his father-in-law enjoyed watching the games together. Bill had a close relationship with him and helped to provide care for him during the last 5 years of his life. Bill was also an enthusiastic fisherman and a member of the Delaware Valley Surf Anglers Club. He also enjoyed watching old classic movies and doing woodworking! However, his greatest love was for his family. When his daughters were young he would often take them tent camping in PA and they always had a great time. He also loved his Sheltie's, "Clancy" and "Murphy," who regularly visited him at the Veteran's home.

In addition to his beloved wife, Bill is also survived by his children: Michelle Pickering (Derek) of Paulsboro, NJ, Christine Morgan Ruth (Jimmy) of Atlantic City, NJ, Melissa Gerace of Brigantine, NJ, Michelle Cardwell (Pastor Stanley Cardwell) of Crofton, MD and Sandra Noel Fears of Basking Ridge, NJ; 12 grandchildren, six great grandchildren; and many extended family and friends. In addition to his parents, he is also preceded in death by his infant son, David and his siblings: David Anthony Morgan, Jr., Edward Morgan and Bernice Deanley.

A Memorial Service will be celebrated by Pastor Stan Cardwell and Pastor Tricia Watson on Saturday, November 24th, 2018 at 10:30 a.m. at First Saints Community Church St. Paul's Campus, 25550 Point Lookout Road, Leonardtown, MD 20650. Reverend Raymond Schmidt will celebrate a Mass Christian Burial on Saturday, December 1st, 2018 at 12 p.m. at St. John Francis Regis Catholic Church, 43950 St. John's Road, Hollywood, MD 20636.

Inurnment will be held at a later date at White Marsh Memorial Park, in Ambler, PA 19002. Memorial contributions may be made to Charlotte Hall Veteran's Home, 29449 Charlotte Hall Rd., Charlotte Hall, MD 20622 or Hospice of St. Mary's County, P.O. Box 625, Leonardtown, MD 20650. Arrangements by the Brinsfield Funeral Home, P.A.