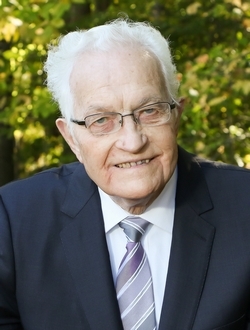 G. Tharon Anthony, 85, of Huntingtown passed away November 13, 2018 at Calvert Health Medical Center. He was born November 15, 1932 in Hickey, AR to Burl Lord and Mary Rebecca (Waldo) Anthony. Tharon was raised on a farm in Oran, MO and graduated from Oran High School. He was drafted into the United States Army in 1953 and was honorably discharged in 1955.

Tharon married Glenda Clark on May 30, 1954 and they lived in Oran, Toledo, OH, Cedar Rapids, IA, Baltimore, MD, Bowie, MD and Chicago, IL before settling in Huntingtown in 1994. He was employed with Federal Grain Inspection Services, retiring in 1992 as supervisor. Following his retirement, Tharon worked at Lord Calvert Bowling in Huntingtown for 10 years. Tharon became an ordained Deacon at Immanuel Baptist Church in Cedar Rapids, IA and was an active member and Deacon at Bayside Baptist Church in Chesapeake Beach.

He enjoyed football and baseball and was an avid fan of the Washington Redskins, Washington Nationals and St. Louis Cardinals. Tharon also enjoyed country music, bowling and spending time with his grandchildren and great-grandchildren. Tharon and Glenda took two special trips that Tharon thoroughly enjoyed; a 21-day trip to Australia and New Zealand and later a trip to Ireland.

Tharon was preceded in death by his son Tharon Wayne Anthony on October 19, 2018. He is survived by his wife of 64 years, Glenda Mae Anthony of Huntingtown, daughter Cheryl Ann Jameson and husband Richard of Prattville, AL, grandchildren Benjamin Tharon Anthony and wife Kate of Oahu, HI, Lauren Rebecca Wissmann and husband Chris of Cape Girardeau, MO, Megan Aileen Higgins and husband William of McAlster, OK and Graham Shelton Kelly of Nashville, TN, great-grandchildren Avery, William and Brady Higgins, twin brother David Aaron Anthony, sisters Wanda Lee Smith and Glenda Lou Buchanan, and daughter in law Stacy Anthony of Huntingtown. Arrangements by Rausch Funeral Home.