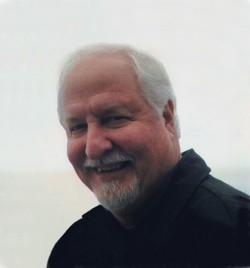 Peter Patrick Van Mieghem, 68, of California, MD passed away peacefully at his home on November 12, 2018. Peter was born in Olympia, Washington the youngest of four boys to George Van Mieghem and Mary Patricia (Van Mieghem) Kerr on July 7th, 1950. Pete graduated from Olympia High School in 1968 and St. Martins College in Lacey, WA in 1972, earning degrees in Sociology and Psychology with a minor in Philosophy.

He worked for the Snohomish Co. Dept. of Human Services for 25 years serving the community as manager of the Energy Weatherization Program, Contract Compliance Officer; and retiring as Financial Compliance Officer. He was proud to have negotiated contracts for the first women's homeless shelter in Snohomish Co., the Everett Gospel Mission Homeless Shelter.

Peter moved to St. Mary's County in May of 2010 and married Pamela Compton (Arnold) on May 22, 2014. Peter enjoyed learning the history of St. Mary's County, the Civil War, exploring the east coast and gardening. Pete enjoyed a lifelong love of music, starting at a young age when he would lie under his mother's baby grand piano as she would expertly play any tune with or without sheet music.

Predeceased by his parents and brother, Michael, he leaves behind to cherish his memory, his wife Pamela, sons, Peter P. Van Mieghem II, Esq. (Jennifer) of San Francisco, CA, Dr. Joseph S. Van Mieghem (Erzsi) of Edmonds, WA, Dr. John Paul Van Mieghem (Erica) of Bellingham, WA, daughter, Kathryn M. White (Ben) of Bellingham, WA and former wife Teresa Scott Van Mieghem; grandchildren, Peter III, Preston, Priscilla, Eleanor, Valene, Joseph, Thomas, Benjamin, Evelyn and Ethan; brothers, William (Sandy) of Olympia, WA, Daniel of San Diego, CA and his beloved companions, Shillelagh and Cosette.

The family wishes to express their gratitude for the wonderful care he received from MedStar Cancer Care Infusion Center and Hospice of St. Mary's. Family will receive friends for Peter's Life Celebration on Saturday, November 17, 2018 from 9:00 to 10:00 a.m., with a Funeral Service at 10:00 a.m. celebrated by Reverend David Beaubien, at Brinsfield Funeral Home, P.A., and 22955 Hollywood Road, Leonardtown, MD 20650. Interment will follow at Charles Memorial Gardens, 26325 Point Lookout Road, Leonardtown, MD 20650. A Memorial Service will be held in Seattle, WA at a later date. Memorial contributions may be made to Hospice of St. Mary's, P.O. Box 625, Leonardtown, MD 20650. Arrangements by the Brinsfield Funeral Home, P.A.