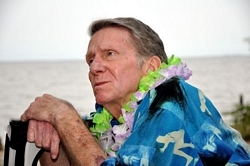 Bryan Edward Redshaw Sr., 71, of Port Republic, Maryland passed away on Saturday, November 10, 2018, ironically the Marine Corp birthday, after losing his battle with a long-time illness. A true, full-blooded Irishman, Bryan was born in Montreal Quebec, Canada to Albert and Kathleen Redshaw. At a young age, his parents brought him to Maryland and his brother, Gary was born.

He started a family after graduation and later joined the USMC. He always joked that he was oldest recruit in the group. He went on to become a 3rd generation printer /plate maker and retired working at the Government Printing Office in Washington,D.C.

Bryan loved to fish, swim and hang out on the beach. This man could smoke some rockfish and blues! He was an avid reader mostly in history, mysteries and fiction, but loved all genres. He enjoyed celebrating the holidays with family, especially the grandkids and great-grand kids. He loved his dogs and everyone else's. He was seldom without them.

He is survived by his loving wife of 40 years, Susan Marie Redshaw, father of, John, Michelle, Renee, Bryan Jr, and Adrienne who is like our daughter. He is also survived by 11 grandchildren, 10 great grandchildren, and his brother, Gary Redshaw. Bryan was preceded in death by his daughter Monica and a granddaughter Krystal.

The family will receive friends on Monday November 19, 2018 from 1-2 PM at the Rausch Funeral Home, 4405 Broomes Island Road, Port Republic, Maryland where services will follow at 2 PM. Interment is private. Memorial contributions may be made to Wounded Warriors Project.