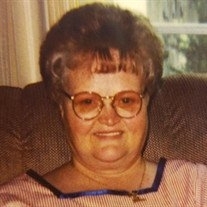 Eulalia Ethyleen "Eck" Morris, age 79, passed away peacefully on Friday, November 9, 2018 in La Plata. Ethyleen was born March 16, 1939 in Brunswick, Georgia to Leonard & Eulalia Pennock. She was a 1958 graduate of La Plata High school. Her parents owned the Waldorf Florist where she worked there as a floral designer until the florist was sold in the 70's.

Ethyleen was the Queen of the Bingo hall at the Isaac Walton, and loved playing the pull tabs. She had a passion for crafts, crocheting was what she loved best. In her early years she was in the Women's Pool league, and placed in the top 10 for the tri-county area, also played on a bowling league at Curleys in Waldorf. As a fan of the Washington Redskins she rooted and screamed at the TV every Sunday. Loved watching Tiger Woods play golf & seeing the Baltimore Orioles Win.

In addition to her parents, Ethyleen was preceded in death by her husband Alvin "Pops" Morris; granddaughter Desiree Renee; siblings, Alice Frankovich, Christine Clary, Edith Taylor and Leonard Pennock; son-in-law Stan Braxton. She is survived by her children Carmela Braxton, Bernie Klauss and his wife Debbie, Lynn Aldridge and her husband Ricky, Kimi-Ann Jacobs and her husband Tony, Lenny Morris and his wife Ronda. grandchildren Kevin, C. J., Eric, R. J., Dillion, Desire', Savannah, Stephen, Dawson, Dakota, Nick, and Allie; great grandson Henry; niece Sandy Gamble; numerous nieces, nephews, other relatives and friends.

Family, friends & others whose lives Ethyleen touched are invited to visitation on Sunday, November 18, 2018 from 2PM to 5PM at Raymond Funeral Service, P.A. 5635 Washington Avenue La Plata, Maryland 20646, where Funeral Services will be held on Monday, November 19, 2018 beginning at 11AM. Interment to follow at Trinity Memorial Gardens in Waldorf, MD.