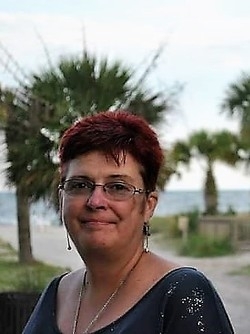 Christina Ann "Christy" Seward, 53, of California, MD passed away on November 6, 2018, surrounded by her loving family at MedStar Washington Hospital Center. She was born on October 6, 1965, in Tilden, NE to the late Thomas Bohr and Jerolyn James Bohr. On November 12, 1988, Christy married her beloved husband, Kenneth Charles Seward, Jr. in Hanford, CA. They were getting ready to celebrate their thirty wonderful years of marriage.

She was employed by St. Mary's County Public Schools as a caring and devoted para-educator for Esperanza Middle School for over 15 dedicated years. She was an avid reader, especially romance and mystery novels. She loved watching football and coaching the teams from her family room especially the Nebraska Cornhuskers, Denver Broncos for brother and son, Steelers for her other brother and the Colts which trumped all. During football season, especially Saturday's and Sunday's she would be found watching a game. She was the life of the party, enjoying 80's rock music. She went to the M3 Rockfest three times and always had a good time.

She was a great cook and a delicious baker; she was known for her sugar cream pie and cakes. Christy was a beach lover and the family often took vacations to Hilton Head, SC. She had quite a collection of minerals to emit good energy throughout her home. She enjoyed bird watching and always made sure there were plenty of feeders for them. She loved children and her family was important to her, especially the five grandchildren. She liked to visit with them and bring them gifts.

In addition to her beloved husband, Christy is also survived by her children: Anthony Seward (Carli) of Green Cove Springs, FL, Heath Seward of California, MD, and Joseph Seward, USAF (Victoria) of Omaha, NE; brothers, Christopher "Todd" Allen Bohr, Broncos fan, (Adell) of San Francisco, CA and Dustin Nachtman, Steelers fan, (Cassie) of Norfolk, NE; grandchildren, Jacob, Elaina, Abby, Olivia, and Natick Seward; and many extended family and friends. She is preceded in death by her parents.

The family will receive friends on Saturday, November 10, 2018, from 1:00 to 3:00 p.m. at Brinsfield Funeral Home, 22955 Hollywood Road, Leonardtown, MD 20650. Interment is private. Memorial contributions may be made to the Lexington Park Rescue Squad, P.O. Box 339, Lexington Park, MD 20653 or the Autism Awareness Foundation, RTAAF, 329 Elton Hills Drive N.W., Rochester, MN 55901, or the Autism Society of Baltimore-Chesapeake, ASBC, P.O. Box 10822, Baltimore, MD 21234. Arrangements by the Brinsfield Funeral Home, P.A.