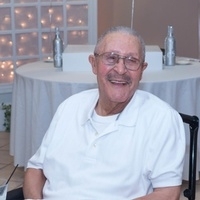 Joseph Ambrose Waring, 87, of Marbury, MD peacefully transitioned into eternal rest on Tuesday, October 30, 2018 at Charlotte Hall Veteran Home. On February 24, 1931 he was born in Washington, DC. His mother Johanna Louise Waring Baylor preceded him in death November 26, 1980 and his father Joseph Ambrose Waring Sr., April 12, 1974. His only brother James P. Waring preceded him in 1952.

Joseph was a life long resident of Bryan's Road, Md. He graduated from Pomonkey high school in 1949 where he was a track star. He married Helen Christine Washington on November 25, 1950 at St. Mary Star of the Sea at Indian Head, Maryland. Together they had 8 living children Patricia (James), Jerry (Wanda), Juanette (Larry), Michelle (James), Michael (Revonna), Melvin (Kathy), Karen (Clyde) and David (Andrea), One deceased daughter Joann.

Joseph had eleven (11) grandchildren, Daryl (Tiffini), Danielle, Tara (George), Stanley, Nicole, Lynette, James, Jr., Marcus (Carrie), Phillip, Travis and Angela. Eleven Great grandchildren, Daryl II, Kristin, Gabrielle, JeRae, Rayelle, Ramiro, Gervey, Amaya, DaVaughn, Adrienna, Sophira and Michael. And a host of nieces and nephews and his special nephews Larry and Ricky Waring and Victor Harrison. Also, his favorite cousin Alvin Waring (Dorothy).

Helen preceded Joseph in death on October 30, 2008 and his second wife also preceded him in death on January 13, 2009. He was the best carpenter in Southern Maryland. He may have built or renovated many of your homes. Baseball and playing cards were his greatest hobbies. He was a short stop on the Pomonkey Browns Negro League. He loved traveling with his family from Florida to Massachusetts. He was an avid Bid Wist player and loved the Casinos. His favorite thing to do on the weekends was to have a big dinner and a big poker game. In his earlier years he loved geese and squirrel hunting.

Viewing, Wednesday November 7, 2018, 11:00 am until the time of service at 12:00 pm in the Chapel of Thornton Funeral Home, P. A, 3439 Livingston Road, Indian Head, Maryland 20640. Internment, Maryland Veterans Cemetery, 11301 Crain Highway, Cheltemham, Maryland 20623.