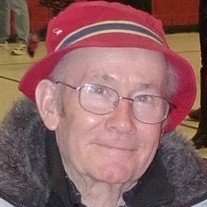 Norman Ray Lee, age 79, of Huntingtown, MD passed away October 30, 2018 at Charlotte Hall Veterans Home. He was born June 14, 1939 in Mooresvile, NC to William "Bill" and Blanch Lee.

Many know him as Norman and many know him as Ray. Either way, all knew a great man. He proudly served his country in the Navy, was involved in his community, was dedicated to his family, and was a loving and committed husband to his wife, Mary (deceased). He had a storied career with NASA working on spacecraft dating back to the Apollo missions and more recently with the Mars Rover program.

He founded the Calvert Soccer Association so that his sons as well as all the other sons and daughters of Calvert County Maryland had another sporting option to play in the Spring and it is still thriving today. He enjoyed spending Friday nights bowling, fishing on the local creek or on the Chesapeake, throwing horseshoes, playing cards, coaching his sons and grandkids, spending time with his sons and their families' activities, and without question, being the sidekick and partner to his wife Mary for 54+ years.

Surviving are five sons Kenneth W. Lee, Sr. and his wife Joanne of Huntingtown, MD, Brian K. Lee, Sr. and his wife Annie of Marshall, VA, Christopher D. Lee, Sr. and his wife Carolyn of Lusby, MD, Glen A. Lee and his wife Edie of Eldersburg, MD and Walter W. Lee and his wife Amy of Rota, Spain; fourteen grandchildren; four great grandchildren; sister Betty Ruth Landsford of Mooresville, NC and sister Beverly Chappelle and her husband C.P. of Mooresville, NC.

A brief graveside service will be held at the Maryland Veterans Cemetery, Cheltenham chapel at 10:15 A.M. on Thursday, November 8. Memorial donations may be made to: Calvert Soccer Association (PO Box 488, Prince Frederick, MD 20678) or Breast Cancer Research Foundation (https://www.bcrf.org/). Arrangements by Lee Funeral Home.