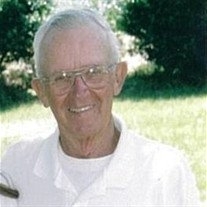 George Horace Cox, age 84, of Pomfret, MD died on October 29, 2018. George was a lifetime resident of Charles County and a member of St. Joseph's Catholic Church in Pomfret. He worked for the Naval Ordinance Station as a Transportation Coordinator for 34 years and was a member of the Maryland National Guard from 1954 to 1958. George loved supporting local sports teams, especially the Baltimore Orioles. He also enjoyed working in the yard and spending time with his friends and family.

George is preceded in death by his parents, Charles Russel and Gertrude Rebecca Cox. His is survived by his wife of 62 years, Patricia Cox; sons, Randy H. Cox, Gary E. Cox, Troy P. Cox, Eric D. Cox; daughter, Roxanne C. Newkirk; 8 grandchildren and 8 great grandchildren.

A visitation for George will be held at St. Joseph's Catholic Church in Pomfret on Thursday, November 8, 2018 from 10AM until his Mass of Christian Burial at 11AM. Interment will follow at the church cemetery. Memorial contributions in George's name may be made to St. Joseph's Catholic Church Building Fund (4590 St. Joseph Way, Pomfret, MD 20675). Arrangements by Raymond Funeral Service.