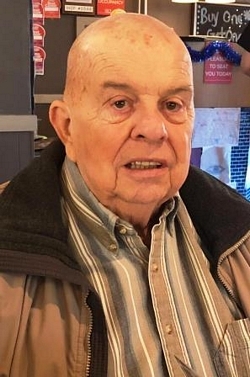 Francis Vincent "Tookie" Shea, 82, of Lusby, MD passed away on October 29, 2018 at Washington Adventist Hospital. Born June 27, 1936 in Prince Frederick, MD he was the son of the late Lorena V. Lockie and Earl T. Lockie. Tookie graduated from Calvert High School.

He married Betty (Denton) Shea whom preceded him in death on December 13, 2005. He was the owner of Lusby Liquors for thirty eight years, retiring in January 2000. Tookie was a charter member of the Solomons Volunteer Rescue Squad and Fire Division and he enjoyed boating, fishing and NASCAR racing.

Tookie is survived by his children, Bernie Shea (Denise) of Lusby, MD and Stacy Marshall Shea of Lusby, MD; grandchildren, John Francis Shea and Kiersten Marie Shea; brother-in-law, Douglas Pardoe; and many nieces, nephews, other relatives and many friends. He was preceded by his wife, Betty D. Shea; and his sister, Barbara J. Pardoe.

Family will receive friends on Sunday, November 4, 2018 from 2:00 p.m. until 6:00 p.m. at Rausch Funeral Home, 20 American Lane, Lusby, MD 20657 where a funeral service will be held on Monday, November 5, 2018 at 11:00 a.m. Interment will follow in Solomons UMC Cemetery, Solomons, MD. Memorial contributions may be made to the Solomons Volunteer Rescue Squad and Fire Department, P.O. Box 189, Solomons, MD 20688. Arrangements by Rausch Funeral Home.