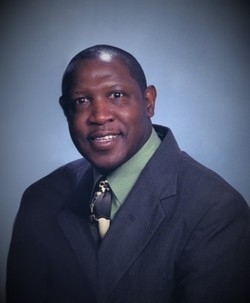 Gene Lorenzo Fenwick, 55, of Lexington Park, MD passed away on Sunday, October 28, 2018 at his home surrounded by his loving family. He was born on January 21, 1963 in Leonardtown, MD to Daisy Barnes Fenwick of Park Hall, MD and Thomas Leroy Fenwick. Gene is a 1982 graduate of Great Mills High School. During high school he was a star athlete, playing many sports, with his favorite being track and field. He was employed by St. Mary's County Department of Recreation and Parks as a Senior Foreman until his retirement in 1998.

On April 30, 1988 he married his beloved wife, Tawanda Fenwick in Seat Pleasant, MD. Together they celebrated over 30 wonderful years of marriage. He enjoyed gardening, playing Spades and dancing to good music such as Otis Redding, Fats Domino and James Brown. He was a grill master and made delicious meals for his family. He and his wife enjoyed a cruise to the Bahamas. His family was his greatest love and he enjoyed spending his time with them.

In addition to his mother and beloved wife, Gene is also survived by his son, Antwan Lorenzo Fenwick of Lexington Park, MD; his siblings: Annie Ford of Lexington Park, Thomas Fenwick (Ruth) of Mechanicsville, MD, Octavia Fenwick of Lexington Park, MD, Terry Fenwick (Irma) of Lexington Park, MD, Lois Stringfield of Norfolk, VA, Gloria Proctor (Conway) of Newburg, MD, Philip Fenwick of Lexington Park, MD, Nathan Fenwick of Park Hall, MD, Gary Fenwick (Kim) of Mechanicsville, MD, Jason Fenwick (Ann) of Lexington Park, MD, Joy Fenwick (Zina) of Lexington Park, MD, and Joyce Fenwick of Park Hall, MD; and many nieces and nephews and extended family and friends. In addition to his father, he is also preceded in death by his sister, Maybelle Olivia Fenwick Putman.

Family will receive friends on Saturday, November 3, 2018 from 9:00 to 10:00 a.m., with a Memorial Discourse by Mark Quick at 10:00 a.m. at Kingdom Hall of Jehovah's Witnesses, 20770 Seth Court, Callaway, MD 20620. Interment will follow at Charles Memorial Gardens. Serving as pallbearers will be his brothers: Thomas Fenwick, Nathan Fenwick, Gary Fenwick, Philip Fenwick, Joy Fenwick, and Terry Fenwick. Honorary pallbearers will be: Conway Proctor, Wayne Saunders, Audwin Saunders, Roger Smith, and Jason Fenwick. In lieu of flowers, memorial contributions may be made to Hospice of St. Mary's, P.O. Box 625, Leonardtown, MD 20650. Arrangements by the Brinsfield Funeral Home, PA.