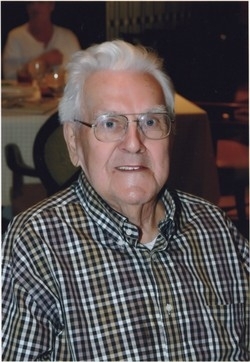 Hal Edwin Cole, Sr., 85, of St. Mary's City, MD entered into life eternal on Saturday, October 27, 2018 surrounded by family. Ed was born July 23, 1933 in Washington, D.C. to the late Kenneth Cole and Frances Mountcastle Cole. Ed graduated from Suitland High School in 1952 and married his high-school sweetheart, Pat, on February 5, 1955. They moved to St. Mary's County in 1958 where Ed began his lifelong keen interest in self-employment and community leadership. Together, Ed and Pat enjoyed over 63 years of marriage and travel adventure.

Ed was an avid world traveler. He visited 6 continents, 91 countries, all 50 states, and flew on the Concorde. During his 40 years of entrepreneurship with Cole Travel, Ed and Pat escorted over 200 tours with many folks who became dear friends.

Sports were important as well to Ed. Ed coached Little League and college basketball. He is a charter member of the St. Mary's College of Maryland Athletic Hall of Fame for his tenure as the college basketball coach from 1966-1973 and was the NAIA Coach of the Year in 1973. Ed is also in the St. Mary's County Softball Hall of Fame and participated in the Maryland Senior Olympics. He was a loyal Washington Redskins fan and season ticket-holder and attended four Washington Super Bowls.

Ed in known for his business contributions in helping to develop Lexington Park. In 1958, Ed opened the High's store on Shangri La Drive. He later served on the board of directors for the Maryland Capital Savings and Loan and is a charter member of the Lexington Park Rotary. Ed also served on the St. Mary's County Board of Education and enjoyed ushering at Trinity Church.

Yet more than anything, Ed's greatest pride and joy was his family. Ed is survived by his beloved wife Pat Cole; his five children: Bill Cole (Ann), Hal Cole, Cindy Cole Pototsky (Mike), Caren Cole Carven (Jay), and Trish Cole (Susan Grier); nine grandchildren: Heather, Cole, Trey, Blake, Katie, Alex, Christy, Ethan, and Garrett; and four great-grandchildren: Julia, Charlotte, Rosemary, and Mayaan. Ed is also survived by his brother Kenneth Cole of Indiana, sister Ellen Burnett of Virginia, and many nieces and nephew.

Family will receive friends for Ed's Life Celebration on Thursday, November 1, 2018 from 5:00 to 8:00 p.m., with prayers recited at 7:00 p.m. at Brinsfield Funeral Home, P.A., 22955 Hollywood Road, Leonardtown, MD. A Mass of Christian Burial will be celebrated by Reverend John Ball on Friday, November 2, 2018 at 11:00 a.m. at Trinity Episcopal Church, 47477 Trinity Church Road, St. Mary's City, MD 20686. Inurnment will follow in the church cemetery. Memorial contributions may be made to Trinity Episcopal Church, P.O. Box 207, St. Mary's City, MD 20686 and Hospice of St. Mary's, P.O. Box 625, Leonardtown, MD 20650. Arrangements by the Brinsfield Funeral Home, P.A.