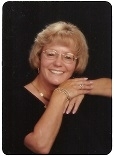 Sharon Elaine Evans, age 72, passed peacefully in her home surrounded by her family on Friday, October 26, 2018. She was born on September 23, 1946 in Washington, D.C. to Millie and Harry True. She graduated from Bladensburg High School in 1964. In 1973, she moved to Calvert County where she raised a family and lived out the rest of her life. She had a career as an Executive Administrative Assistant at Deloitte & Touche, an accounting firm, from where she eventually retired. Sharon enjoyed spending time with her family and dog Shadow, dancing, eating, music, and going to the beach.

She is survived by her daughter, Michele (Shawn) Watt; grandchildren, Lauren, Danielle, and Jordan Watt; sister, Linda (Gary) Jarvis; nieces, Cheri (Rocky) Ashman, Kendall (Matthew) Nice; nephew, Jason (Whitney) Jarvis; and her best friend and dog Shadow. Sharon was preceded in death by her beloved children, Denise and Shawn Evans, brother Timmy True, and parents, Millie and Harry True. Sharon will be remembered as a bold, truthful, stubborn, Pepsi drinking, foot wiggling, loving mother, sister, grandmother, aunt, and friend.

Celebration of Life services will be held on Saturday, November 3, 2018. Family will receive friends at 11:00 AM and a service will follow at 12:00 PM, at Rausch Funeral Home, Port Republic, MD. The family would like to extend sincere gratitude to the staff of Calvert Hospice for their attentiveness and loving care. In lieu of flowers, Memorial Contributions may be made in Sharon's name to St. Jude Children's Research Hospital. Arrangements by Rausch Funeral Home.