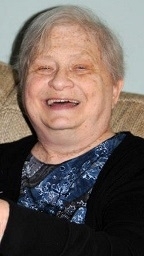 Helen Marie Gelvin, 78, of North Beach, Maryland passed away on October 25, 2018 in Washington DC.. She was born on November 25, 1939 in Washington DC, to the late Joseph and Thelma Koch. Besides her parents, Helen is preceded in death by the husband, Phillip Gelvin,,a son James Myers, and two sisters, Elsie Ventresca and Mildred Passero.

She is survived by her daughter, Vicci Marino and her husband Vausto, grandchildren Kara Tettimer and Karl Myers. She is also survived by 6 great grandchildren, Natalie, Dylan, Leighton, Olivia, Bryce and Kolton.

The family will receive friends on Friday November 9, 2018 from 5-6 PM at the Rausch Funeral Home, 4405 Broomes Island Road, Port Republic, MD where services will follow at 6 PM. Interment is private. Memorial contributions may be made to the American Heart Association. Arrangements by Rausch Funeral Home.