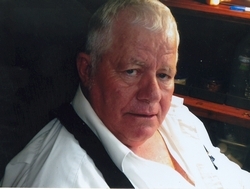 Thomas Webster "Tommy" Lyons, 78, of Dunkirk passed away October 24, 2018 at his residence. He was born October 14, 1940 in Dunkirk to James Webster and Lillian Mae (Breeden) Lyons. Tommy was raised in Dunkirk and graduated from Southern High School in 1959. He joined the United States Navy October 21, 1959 and was honorably discharged April 6, 1962.

He married Carolyn King July 19, 1969 and they lived on the family fam in Dunkirk. Tommy was employed with Anne Arundel County Public Works for many years, retiring in 1995. Tommy was a member of Friendship United Methodist Church and enjoyed hunting, fishing, working, and reading.

Tommy is survived by his wife Carolyn Marie Lyons of Dunkirk, son Joseph D. Lyons and his wife Melissa of Dunkirk, grandson Pierce Lyons and numerous cousins. Arrangements by Rausch Funeral Home.