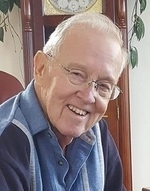 Ransom "Billy" Hanford, 80, of Lexington Park, MD formerly from Henderson, NC passed away on October 19, 2018 in Callaway, MD. He was born on May 6, 1938 in Henderson, NC and was the son of the late Lucy Bell Hanford and Matt Ransom Hanford of Henderson, NC. Billy was the loving husband of Martha Haywood Hanford of Lexington Park, MD, whom he married on September 1, 1963 in Candor, NC.

Ransom is survived by his children: Elizabeth Scholosser (Lou) of Lexington Park, MD, Melissa Hanford of Fort Lauderdale, FL, 6 grandchildren and 2 step grandchildren. As well as, siblings; Alton Hanford, Mark Hanford (Patsy), Wayne Hanford (Juanita), and Ray Hanford. He was preceded in death by his sister in law Sue Hanford. He graduated from Henderson High School in 1956. In addition, he earned an Electrical Engineering Degree from North Carolina State University in 1964. Moreover Billy moved from Henderson, NC to St. Mary's County, MD in 1964. Afterwards, he worked at Patuxent River Naval Air Base Testing Center for 33 years, retiring in 1997.

Billy served in the United States Navy from February 6, 1957 to January 24, 1961. While serving in the United States Navy, he earned the Good Conduct Medal. Billy started Cedar Point Financial Services in 1994, working as a consultant to EMA, Dyncorp, and Vitro. He was a member of Cedar Point Federal Credit Union and Cedar Lane Apartments. Billy loved fishing, traveling to different countries, investing in stock and bonds, spending time at his Carolina Beach condo and spending time with family and friends. Arrangements by Mattingley-Gardiner Funeral Home.