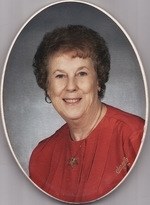 Mary Elizabeth "Betty" Farrell, 81, of Leonardtown, MD left her earthly home on October 17, 2018. Born in Oakville, MD on September 5, 1937, she was the daughter of Ella Mae Knight and William "Bill" Knight. She is survived by her husband of nearly four years, Dr. Herbert C. Winnik, and his daughters Aliza M. Robin and Natasha R. Winnik; her daughter Lisa K. Farrell; her son David L. Farrell; grandsons Tyler H. Jones and Travis D. Farrell; and siblings George G. Knight and Joseph A. Knight. She was preceded in death by her first husband, Leonard B. "Tink" Farrell on October 16, 2010. She was also preceded in death by her siblings Doris C. Knight, John B. Knight, and James W. Knight.

Betty was a homemaker most of her life but also worked as a bookkeeper for The First National Bank of St. Mary's, as a babysitter, as a salesperson at the Hub clothing store, and as a receptionist at Bernie's Beauty Salon. Betty's talents and interests were many. She enjoyed sewing, creating floral arrangements, gardening, traveling, going to plays, cheering on the Orioles, and spending time with her family. She was a loving caregiver to family and friends throughout the years. She always had a way of brightening your day with her laughter.

The family will receive friends on Monday October 22, from 5 p.m.-8 p.m. at the Mattingley-Gardiner Funeral Home with prayers at 7 p.m. A Mass of Christian burial will be celebrated on Tuesday, October 23, at 11 a.m. at Sacred Heart Catholic Church in Bushwood with the Rev. Brian Sanderfoot officiating. Interment will follow in the church cemetery. With Arthur Farrell, Michael Knight, Joseph Knight Jr., John Spalding, Robert Burch, and Fenton Perkins as pallbearers. Contributions may be made to the St. Francis Xavier Church, 21370 Newtowne Neck Rd., Leonardtown, MD 20650 or the Seventh District Volunteer Rescue Squad, P.O. Box 206, Avenue, MD 20609.