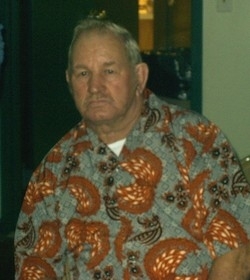 Joseph Lee "Bumsie" Readmond, 88, of Hollywood, MD passed away peacefully Wednesday, October 17, 2018 at Hospice House of St. Mary's in Callaway, MD. He was born March 26, 1930 in Hollywood, MD to the late James Leonard Readmond and Emma Estelle Wallace Readmond. Bumsie is a lifelong resident of St. Mary's County. On December 18, 1948, he enlisted in the United States Army and proudly served his country until his honorable discharge on April 12, 1950. He earned the Army of Occupation Medal with Japan Clasp.

On November 17, 1954 he married his beloved wife, Catherine Marie Readmond at St. Aloysius Catholic Church. Together they celebration over 54 wonderful years of marriage before her passing. He was a dedicated paver operator with over 30 years of dedicated workmanship with GenStar until his retirement in 1994. He was a skilled guitarist and also played the mouth harp. He enjoyed country music and playing in a band with his brothers.

He loved spending time on the water, fishing and crabbing. He looked forward to hosting Fourth of July celebrations for his family and friends, accompanied with cold beer, hard crabs and lots of fun yard games. He customized his man cave from a shed out back, naming it the "bumshack." He took great pride in his lawn and keep it meticulous manicured, along with his beautiful flower and bountiful vegetable garden.

Bumsie is survived by his children: Janice Haggerty (Richard), Timothy Readmond, Sheila Marie Readmond (Ronald "Otis" Wood) and Jason Keith Readmond; his siblings: William Clyde "Bucky" Readmond (Sue) of Hollywood, MD, Jeanne Davis (Carl) of Beadford, TX, and Catherine "Jo" Jones of Indian Head, MD; his grandchildren: Joseph Haggerty (Mandi) of Lusby, MD and Kellie Haggerty of California, MD; great grandchildren: Reagan and Ryleigh Haggerty and Tori Pernell; and many extended family and friends. In addition to his parents and wife, he is also preceded in death by his siblings: Agnes Ferguson, Robert "Tootie" Readmond, John "Tinki" Readmond, and James "Sumpy" Readmond.

Family will receive friends on Monday, October, 22, 2018 from 5:00 p.m. to 8:00 p.m., with prayers at 7:00 p.m., at Brinsfield Funeral Home, P.A. 22955 Hollywood Road, Leonardtown, MD 20650. A Mass of Christian Burial will be celebrated by Reverend Raymond Schmidt on Tuesday, October 23, 2018 at 10:00 a.m. at St. John Francis Regis Catholic Church, 43950 St. Johns Road, Hollywood, MD 20636. Interment will follow in the church cemetery.

Serving as pallbearers will be Wayne Goldsborough, Joseph Haggerty, Jimmy McGuigan, Phil Wallace, Kyle Johnson, and Robbie Tippett, Jr. Honorary pallbearers will be Kellie Haggerty, Mandi Haggerty, Reagan Haggerty, Ryleigh Haggerty and Tori Pernell. Memorial contributions may be made to Hospice of St. Mary's, P.O. Box 625, Leonardtown, MD 20650. Arrangements by the Brinsfield Funeral Home, PA.