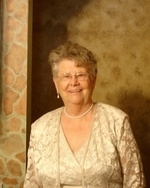 Minnie Elizabeth McGinnis Necessary, "Minnie" 86, of Leonardtown, MD formerly of Mechanicsville, MD (Oakville) passed away on October 12, 2018 in Leonardtown, MD. Born on January 9, 1932 in Aylor, VA, she was the daughter of the late Addie V. Aylor Myers and Raymond Leo Myers.

Minnie was the loving wife of the late Jack Buren McGinnis whom she married on February 9, 1950 and who preceded her in death on December 22, 1974. She was also the loving wife of her second husband, the late Frank Marion Necessary whom she married on May 3, 2008 in California, MD and who preceded her in death on December 15, 2011. Minnie loved her family first, then gardening, fishing and hunting. In her later life her favorite sport was watching golf with Frank!

Minnie is survived by her children; Jackie McGinnis, Sherry Turner, Marilyn Brown (Jim), Debbie Abell (John), Katy McGinnis, Jerry McGinnis (Tammy), Carolyn Mattingly-Moore (Tim) and David McGinnis (Dawn). 27 grandchildren, 46 great-grandchildren, 3 great-great-grandchildren and sister-in-law Peggy Myers. She is preceded in death by her daughter Barbara McGinnis and her siblings; Ernest Leo (Buddy) Myers and Frances Ann Lamb (Bobby).

The family will receive friends on Tuesday, October 16, 2018 from 5:00 PM-8:00 PM with prayers recited at 7:00 PM in the Mattingley-Gardiner Funeral Home Leonardtown, MD. A Funeral Service will be held on Wednesday, October 17, 2018 at 10:00 AM in the Funeral Home Chapel with Deacon Ammon Ripple officiating. Interment will follow in Charles Memorial Gardens Leonardtown, MD. Pallbearers will be; David McGinnis, Jimmy Payne, Roger Lamb, Jimmy Burroughs, Paul McGinnis and Stu Geisbert. Contributions may be made to St. Mary's Nursing Center 21585 Peabody Street Leonardtown, MD 20650.