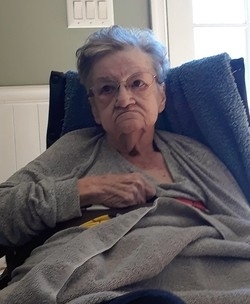 Margaret Mary Huffman, 90, of Dameron, MD (previously from Landover Hills, MD) passed away peacefully on Tuesday, October 9, 2018 at home surrounded by her loving family. She was born March 14, 1928 in Greenville, NC to the late Bernard J. Sweeney and Mary Elizabeth Lynch.

She was the beloved wife of the late John Allen Huffman, Sr. for over 60 years before his passing in August 2007. She was a wonderful cook and delicious baker, and was known for her tasty barbeque. She grew beautiful flower gardens every year. She also enjoyed the beach and travelled every year to visit her sister in Florida. She enjoyed traveling with family and friends. She was a devote catholic and active in St. Mary's Catholic Church and School. She made sure all six of her children attended catholic school.

Margaret is survived by her children: John Huffman, Jr. of Hyattsville, MD, Margaret Emily "Peggy" Figliozzi (Tony) of Davidsonville, MD, Kevin J. Huffman (Val) of Laurel, MD, Keith El Huffman (Bonnie) of Marriottsville, MD, and Anna Huffman Hoyer of Dameron, MD; her siblings: Alice Payne of Melbourne, F:, Buddy Sweeney of Elkins, FL and Jimmy Sweeney (Julie) of Summerville, SC; 9 grandchildren and 2 great grandchildren. Her Uncle Buddy of Ellenton and her Uncle Jimmy of Pawley Island. In addition to her beloved husband, she is also preceded in death by her son, David L. Huffman. All services will be private. Arrangements by the Brinsfield Funeral Home, P.A.