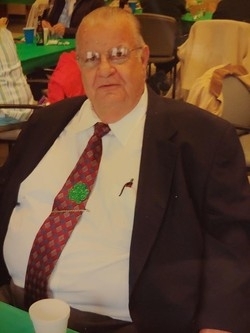 Jack Paul Bell, age 82, of Mechanicsville, Maryland passed away peacefully on the evening of October 10th, 2018. In the days leading to his passing Jack "Grandpa Jack" was surrounded by the comfort of his loved ones and took peace in knowing he was going home to be with the lord. Jack was born on February 5th, 1936 in Long Beach, California. In his early youth Jack was a cub scout where he gained an appreciation for hunting and fishing; activities that he continued to enjoy throughout his life. Early in his youth his family moved to Placerville, California where he attended school and worked on the family farm.

When he was seventeen he enlisted in the U.S. Navy where he and his older brother Ernest, sailed on the same ship transporting troops to Korea. He married his first wife Catherine Bell (now Cunningham) in 1953 and was blessed with four children, Sharon, Robert, Catherine, and Michael. Jack later married Alma (Fuller) Bell and proudly welcomed two step daughters Elaine Stevens and Carolyn Scorsonelli.

Those who knew Jack knew of his incredible work ethic. For almost 45 years he was a truck driver and was very proud of it. Before retiring in 1998 he received an award for driving over 2 million incident free miles. When he wasn't working he enjoyed many hobbies, one of his passions were motorcycles and throughout his life he owned multiple types but, Harley Davidsons were his favorite. Another passion of his was Christianity, he found Christ in the 80's and led many others to him. He was known for quite some time as the highway preacher. On his off hours he would duplicate tapes and hand them out as he traveled America's highways.

Even more notable than Jack's "get-er-done" attitude, was his undeniable humor, confidence, and whit; to say Jack was a "people person" would be an understatement. He could crack a smile out of the toughest of crowds without even trying.

In 2010, after the passing of his wife, Jack moved to Maryland to be close too and eventually under the care of his family. Even as his physical health declined, Jack remained a true optimist and continued to make those around him smile. His last words to those who visited were "I love you". Jack's family takes much comfort knowing he's gone to be with the lord and those loved ones who have gone before him.

Jack is predeceased by his oldest son Robert Bell, wife Alma Bell, mother Helen Landreth and father Ernest Bell. He is survived by his children and their spouses, Sharon and Robert Maxwell, Catherine (Bell) & Don Currier and Michael and Charla Bell; his two step daughters and spouses Elaine and Greg Stevens and Carolyn and Ronald Scorsonelli; his grandchildren, Phillup Parker, Michael Bell (Jr), Jacob Reed, Joseph Morris, Christy Bell, LeAna (Bell) Davis, James Bell, Andrea (Bell) Miller, Paul Bell, Jeffrey Bell, Derek Bell, Jaqueline Bell, Hilary (Bell) Gravelle, and step grandchildren Christopher Tucker, Justin Tucker, Melissa Tucker, Gina Stephens, Darin Stephens, Ronald Sconsonelli Jr., Jason Scorsonelli. Brother Ernest Bell Jr, plus many great and great great grandchildren.All services will be private. Arrangements by the Brinsfield Funeral Home, P.A.