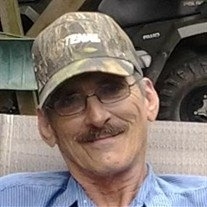 Howard George Burch, 62, of White Plains, Maryland died suddenly at his home on Wednesday, October 10, 2018. Born on May 27, 1956 he was the son of the late Bertha Ann Buckler Burch and Russell Arthur "Skip" Burch, Sr. George was an electrician with Taylor Electric Company. He enjoyed hunting, playing cards, drinking coffee and hanging out with friends.

In addition to his parents, George was preceded in death by his brother James V. "Tiny Boy" Burch. He is survived by his siblings Russell Burch Jr., Philip Burch (Kathleen), Joyce McConnell (John) and Robert Burch (Jody); also survived by numerous nieces, nephews, other relatives and friends.

Visitation will be held on Tuesday, October 16, 2018 from 4PM to 7PM at Raymond Funeral Service, P.A. 5635 Washington Avenue La Plata, Maryland 20646. Interment will be private. Arrangements by Raymond Funeral Service.