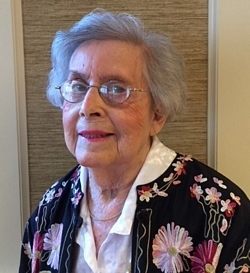 Ann C. Lake, 87, of Solomons, MD passed away on October 11, 2018 at St. Mary's Hospice in Leonardtown, MD. Born on October 9, 1931 in Clearfield, Pennsylvania she was the daughter of Bowman and Mildred Cowdrick. Ann graduated from Anacostia High School in Washington, D.C. and attended Mt. Vernon United Methodist Church. While participating in a youth group at the church, she met her husband William B. Lake. They have been married for almost 68 years.

Ann was preceded in death by her parents and her sister Nancy Cowdrick Settlemire. In addition to her husband, Ann is survived by her three daughters, Karen Livingston (Michael), Janice Biennas (Dennis), and Joan Decker (George). She was grandmother to Steven (Colleen), Kathryn (Sergio), and Ryan (Angela). Her great-grandchildren are Grace, Sophia, Max, Cameron, Reese, and Logan. She is also survived by a niece and several nephews.

Visitation with the family will be held at Rausch Funeral Home, 4405 Broomes Island Road, Port Republic, MD 20676 on October 16, 2018 at 11 a.m., followed by a memorial service at noon. Interment will follow the service at Chesapeake Highlands Memorial Gardens, 3270 Broomes Island Rd, Port Republic, MD 20676.