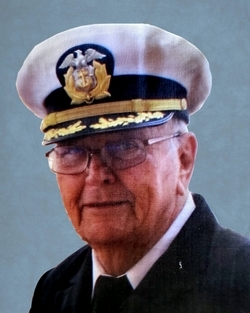 John Francis Furey, 84, passed, after a long illness, on September 20, 2018, at his home in Englewood, FL. He enjoyed a good, colorful life with 23 years in the Air Force, 17 years in Reserves, and 20 years as a Maryland Natural Resource Police officer, retiring in 1990.

He enjoyed his retirement as boat captain for tour boats and the Dandy Dinner cruise on the Potomac. He was a member of many fraternal organizations, including American Legion, Anccient Order of Hibernians, Elks, Moose and the Knights of Columbus.

He was born in Tiverton, RI on April 10, 1934 to Thomas and Margaret (Considine) Furey. He is survived by his wife, Jennifer (York) Furey, his children Joe, Jeff and Bonnie Furey, and several grandchildren and great grandchildren. He was preceded in death by his parents, his brothers Thomas and Bradford, and his first wife, Mary Lou (Travers) Furey.

His mantra "Every day, in every way, I get better and better." In lieu of flowers please consider a donation to American Heart Association and/or Potomac river conservation.