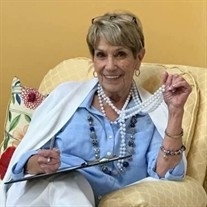 Our beloved Mom and Grammy, Janell Martin, went to heaven on Monday, October 1, 2018 surrounded by her family. Janell was born in Folsom, Louisiana on September 17, 1940 to John and Tera Dillon. After marrying she moved to Maryland where she raised her five daughters. Janell was predeceased by her beloved husband Dave Martin, brothers Junior Dillon and Joe Dillon.

Janell was a devoted Mom to her five daughters and Grammy to her eleven grandchildren. Throughout her life she held her family as the one thing dearest to her heart. She was filled with pride at each accomplishment and enthusiastically participated in all celebrations. She was always there for her family near or far. She was our biggest cheerleader, offering unconditional love, support, sympathy and motivation. Her enthusiasm for life and love of laughter and fun making memories will live on in her family always.

Janell was an active volunteer throughout her girls' school years. She became a secretary for the Charles County Board of Education and various private law firms. In 1989, she married Dave Martin, of Waldorf, Maryland. Janell and Dave loved cheering on the Redskins and New Orleans Saints together. They were active members and volunteers of the Waldorf Moose Lodge. She served as a Senior Regent of the Women of the Moose and loved spending time with friends shooting pool, playing shuffleboard and winning at poker.

She is survived by her five daughters, Sandy Moses (Knob), Connie Sims (Chuck), Peggy Danielson (Derek), Julie Luppino (Glenn) and Angie Keesee (Brian), three step children, Chip Martin, Tony Martin and Kristin Baucom (Mike), grandchildren Ryan Jung, Kelly Moses, Zachary Lilly (Alli), Chad Sims, Jamie Edmonds (Greg), Kara Sims, Amanda Hurley, Samantha Adams, Joshua Hurley, Connor Sims, Ally Keesee, step-grandchildren Tony Martin, Jr. (Kara), Linzy Martin, Hunter Martin, Cole Baucom, David Martin, Derek Danielson, Jr., Christen Danielson, David Luppino, Gina Luppino, sister Geneva Toups, half-sister Janice Dillon, half-brother Eddie Dillon, loving first husband Ken Leib, and many nieces and nephews.

Visitation will be held on Monday, October 8, 2018 from 4 p.m. to 7 p.m. at Raymond Funeral Home, 5635 Washington Avenue La Plata, MD. Funeral services will be held on Tuesday, October 9, 2018 at 10:00 a.m. at New Life Church, 9690 Shepherds Creek Place, La Plata, MD followed by interment at Trinity Memorial Gardens, 3221 Mattawoman-Beantown Road, Waldorf, MD. There will be a celebration of her life at 12:30 p.m. at the Waldorf Moose Lodge, 4765 Crain Highway, White Plains, MD. Memorial contributions may be made to Spring Dell Center, 6040 Radio Station Road, La Plata, MD 20646, in honor of her "Tootsie" Samantha Adams, her granddaughter with Rett Syndrome.