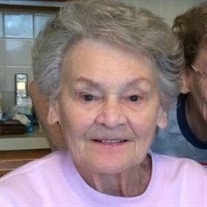 On Monday, October 1, 2018 Catherine Hanna Grant (Kitty, Kitten), mother, daughter, and sister, passed away at the age of 83. She will be forever and lovingly remembered by her family and friends. One of her many qualities was that she loved her family and friends fiercely and unconditionally.

She was preceded in death by her husband of 56 years, Robert Lee Grant; her sisters, Margaret, Betty, and Mary; and her parents, Eugene and Thelma Miller. She is survived by her daughters, Denise Atwood and Darlene Madsen; her sons-in-law, Gary and Roy; her sisters, Charlotte, Gloria, Sissy, Lynn, and Linda Grace; her brothers, Bradley Miller, Paul Eugene Miller Jr., and Arthur Miller, her grandchildren; Theresa, Timmy, Taryn, Erik, Dane, Spenser; and her great-grandchildren, Quinn, Jackson, and Manny. She is also survived by numerous nieces and nephews.

Friends received on Friday October 5, 2018 from 12:00 p.m. until time of Funeral Service at 2:00 p.m. at Raymond Funeral Service Chapel, 5635 Washington Ave, La Plata, Maryland 20646, Officiated by Rev. Chris Bryan. Interment to follow at Trinity Memorial Gardens (Waldorf, Maryland).