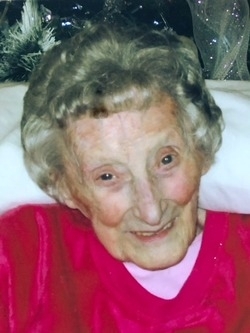 Jean Beverly Nertney, of Leonardtown, Maryland passed away peacefully on September 30, 2018 at the age of 92. She was born on March 20, 1926 in Wilmington, Delaware to James Stoddard and Irene Stoddard. She was their only child.

Jean raised her daughter, Linda, in Wilmington, Delaware and then moved to Hallandale, Florida upon retirement. She enjoyed jazz music, especially the songs of Louis Prima, and she was an avid writer of poetry and plays. Jean also loved watching the horses race at the nearby racetrack, where many of her friends owned and trained thoroughbreds. She will be remembered for her sharp wit, keen interest in current events, and deep love for her family.

Jean is survived by grandson Kyle Dudderar and his wife, Celeste Dudderar (nee Grow) and their sons Cole, Jude, and Harris, of Longmont, Colorado and granddaughter, Heidi Dudderar, and her daughter, Jordan, of Riva, Maryland. She was predeceased by her parents and her beloved daughter, Linda Dudderar.

Her passing is mourned by her grandchildren, great-grandchildren, extended family, and friends. She will be interred on October 9, 2018 in Silverbrook Cemetery and Memorial Park in Wilmington, Delaware. Interment will be private. Arrangements by the Brinsfield Funeral Home, P.A.