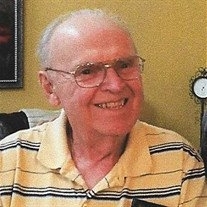 Frederick "Fred" Leo Callan Jr., 90, died September 30, 2018, at Burnett-Calvert Hospice House, Prince Frederick, MD. He was born in Worcester, MA on February 13, 1928 to Frederick Leo Callan and Bertha Hope [Haney] Callan. He enlisted in the U.S. Navy in 1946 and in the U.S. Air Force in 1952. In 1950 he graduated from Worcester Junior College and relocated to Washington, DC. He then attended American University in 1954.

Fred began his career in 1951 with the Metropolitan Police Department in Washington, DC, retiring in 1970 as a Detective. In 1971, he became an Investigator with Safeway Stores in Landover, MD; and retired again in 1984 to Calvert County, MD with Linda [Keyser] Callan, his wife of 34 years. Fred played baseball and basketball while in college; had try outs with the Boston Red Sox Baseball Farm System. He was an accomplished painter of oils and pencil drawings, enjoyed fishing, hunting and carpentry.

Surviving Fred are Judith Hargraves Planner, niece, Pierce, NB; Nan Callan, mother to his three children: Michael B. Callan (Jenni) of Jefferson, MD, Bryan T. Callan (Lori) of Middletown, MD, Colleen Callan Benner of New Market, MD; Linda's children: Shannon F. Pullium (Mark) of Mechanicsville, MD and Kelly M. Austin (Charles) of California, MD, as well as 16 Grandchildren. In addition to his parents, he was predeceased by his sister, Dorothy E. Hargraves, brother-in-law, Raymond A. Hargraves, and nephew, David W. Hargraves.

The family would like to thank Calvert Hospice for providing compassionate end-of-life care to Fred. In lieu of flowers, contributions are encouraged to Calvert Hospice, P.O. Box 838, Prince Frederick, MD 20678. Arrangements by Lee Funeral Home.