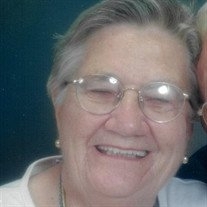 Ruth Pettyjohn Klemstine, or better known as Mom-Mom, passed away peacefully at the Genesis Healthcare Center in Waldorf, Maryland on Saturday, September 29, 2018. She was 93 years young. She was born in Dover, Delaware on August 18, 1925 and married Charles H. Klemstine on August 19, 1943 (one day after turning 18, a condition of her parents). She spent most of her life living and working in Delaware until moving to Murrells Inlet in South Carolina, living there until 2010 when she moved to White Plains, Maryland after the death of her husband and to be closer to her son, grandchildren, and great grandchildren.

She had a long and happy life being a wife, mother, grandmother, and great-grandmother. Besides being all that above, she enjoyed working as a bookkeeper at a long-hauling trucking company and at Wesley College in Dover. She also worked for the telephone company as an operator and spending her later working years in sales at a number of small retail businesses in the Rehoboth area in lower Delaware. Her favorite expression was "What's happening" and her demand that we call her whenever we were away to let her know we were safe no matter what age we were.

She was the daughter of Warren Pettyjohn and Elizabeth Bradfield Pettyjohn. In addition to her parents, she was also preceded in death by her husband of 66 years, Charles and her sisters, Mary and Helen. She is survived by her children, Charles (Cindy) and Beth (Frank); her grandchildren, Missy (Rick), Liz (Vlad), Jeff, Amy (Paul), and Matt (Katie); and her great-grandchildren, Stephen, Joseph, Thomas, Abby, Maddie, Andrew, Anna, Matt Jr., and Cameron.

Funeral services and interment will be private.

Mother/Mom-Mom, we wish you to find and enjoy the peace of heaven.