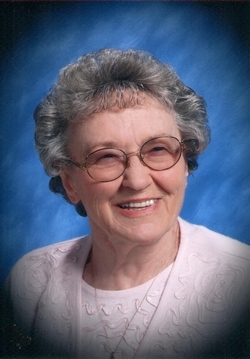 Lenore "Peggy" Hilton Witman Ellison, 94, spirit was called home to Heaven to be with her Lord and Savior on September 30, 2018 at Solomons Nursing Home in Solomons, MD. She follows to Heaven her husband of 46 years, Chaplain Ervin DeVere Ellison III of Cortland NY. Peggy was born on September 3, 1924 in Penn Township, Manheim, PA, the daughter of the late Frank Miller Witman and Stella Diffenderfer Hilton Witman Helt, one of eight children.

She graduated Manheim High School in 1942 and graduated from Philadelphia College of the Bible in 1950. Peggy's College yearbook message was "The most commendable thing one can do is "Believe on the Lord Jesus Christ." And let Him live out His life in you. I praise God for the day He showed to me THE WAY. By His grace, each day forward, I shall walk therein, Colossians 1:10-14. Her hope for you would be the same, Believe on the Lord Jesus Christ, be saved, and let Him live in you through His Word and guide your life, be joyous and thankful in all things!

She met her husband at college, married in 1953 and the adventures began. Her life was characterized by loving service and devotion in all she did. She enjoyed being an office worker while her husband attended Dallas Theology seminary. Peggy supported her husband, traveling and setting up home, wherever the Air Force assigned him for his Chaplain duties, and she endured two separations when he was assigned isolated tours to Alaska and Korea. She enjoyed her role as a Chaplains wife, meeting many friends for life, singing in the choir, attending bible studies, teaching Sunday school and summer VBS, a member of the Officers Wives club, attending the Conferences, and writing many uplifting scripture filled letters to the Chapel families. She always had a smile on her face for everyone; she loved spending time with her family and friends; she enjoyed reading the scriptures, being a homemaker, cooking, sewing, painting, decorating cakes, and making her plastic canvas snowflakes, which she gave to many. She even traveled with her husband to Europe and Hawaii after having a stroke in 1980, which never stopped her sweet determined spirit.

Peggy was a loving wife, mother and grandmother. Her most prized possessions were her family. Her legacy is her three children; daughter Elayne & Walt Rosch of Leonardtown, MD; and two sons; Skip & Dawn Ellison of Prince Frederick, MD; and Dan Ellison of Centreville, VA; eight grandchildren; Jason, Renee (Keith O'Dell), Macks (Natalie), Erica, Zachary (Candace), Sarah (Joshua Miller), Lauren and Claire; and five great grandchildren, Caleb, AnneMarie, Cherish, Cooper and Peyton; Also survived by her sister Gladys Johnstone of Virginia Beach, VA, and brother Clarence "Whitey" & Paula Witman of Manheim, PA, brother in law James Reppert of Manheim, PA, Sister in laws; June Witman of Lititz, PA, Ruth Witman of Manheim, PA, and Jackie Witman of Ephrata PA, and many Nieces and Nephews.

Preceding her in death are her four brothers, Milfred, Clyde, Dale, & Glenn Witman; sister, Reba Reppert; sister in law Margaret Witman; brothers in law, Ed Rockefeller and Leslie Johnstone, Jr; Ellison In laws, Bill & Marilyn Ellison, Greydon & Norine Ellison, Patricia (Ellison) & Jack Sweet, Bob & June Ellison and daughter in law Kathy Ellison.

Memorial donations can be made to: Cairn University (Formerly Philadelphia College of the Bible), 200 Manor Ave, Langhorne, PA 19047. She will be laid to rest next to her husband in Arlington National Cemetery. Arrangements provided by Rausch Funeral Home, P.A., Lusby, MD.