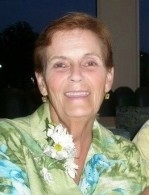 Sue Magee Purcell, 81, was born in Washington, DC on April 18, 1937 to Robert Aler Magee and Mary Elizabeth Jones Magee. She moved with her family to Locust Grove Farm in Drayden when she was in high school. She graduated from Great Mills High School, where she met her husband of 60 years, Charles K. Purcell of Lexington Park to whom she was forever loyal. Charles took loving care of Sue in their family home as she battled and ultimately succumbed to Alzheimer's disease.

Sue is survived by her children Liz Purcell Leskinen (John) of Leonardtown, Kirk Purcell (Connie) of Lexington Park, and Scott Purcell (Mary) of Tampa, Florida, and her brother Jim Magee (Chris) of Ocean Springs, MS. Sue is also survived by four grandchildren who she adored: David Purcell (Laurel) of Marysville, WA; Amanda (Mandy) Purcell of Lexington Park, Zakary Purcell of Lexington Park, and Gabrielle Purcell of Tampa, FL, and one great grandchild, Harper Purcell of Marysville. Sue was preceded in death by her brother Pat Magee of Drayden and her sister, Sallie Springer of Valley Lee.

Sue had a lifetime calling as a child advocate. After graduating from Salisbury State Teachers College, she started her career at Beaver Run Elementary School in Salisbury before returning to St. Mary's County to teach. Locally Sue taught elementary school at Felix Johnson Education Center, Frank Knox Elementary School, and Greenview Knolls Elementary School, from which she retired after 39 years of teaching. Sue was passionate about improving the lives of children.

Sue was known by her friends, family, and colleagues for her wicked sense of humor and quest for adventure. She spent hours in her yard tending to spectacular arrays of flowers. People stopped to admire her rows of yellow mums and purple iris when they were blooming. Sue loved to travel and was well-known by MD Transit Authority toll takers who appreciated her OCSUE vanity tag and duly greeted her with "Welcome Ocean City Sue" each time she crossed the Chesapeake Bay Bridge.

Sue's proudest accomplishment was her own children, who she will continue to hold close. She left a legacy of love, service, compassion, and optimism. However challenging or dreary, Sue would end every single day with, "It couldn't have been a nicer day."

The family will receive friends on Wednesday, October 3, 2018 from 5:00 PM to 8:00 PM with prayers recited at 7:00 PM in the Mattingley-Gardiner Funeral Home Leonardtown, MD. A Funeral Service will be held on Thursday, October 4, 2018 at 10:00 AM in St. George's Episcopal Church Valley Lee, MD with Fr. Greg Syler officiating. Interment will follow in the church cemetery. Pallbearers will be Kirk Purcell (son), Scott Purcell (son), Jim Magee (brother), John Leskinen (son-in-law), Zakary Purcell (grandson), and David Purcell (grandson). Memorials in lieu of flowers may be made to the Alzheimer's Association National Capital Area Chapter 10665 Stanhaven Place #205D, White Plains, MD 20695.