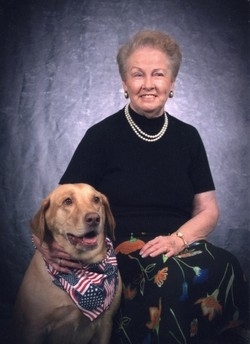 Owene Collins Sobola ("Wini") was born on March 18, 1931 in Perry, Florida. Her father died when she was young leaving her mother to raise the family of four children: Owene, her twin Maxine, Clidia and Henry. Before moving to Jacksonville, they lived on a Perry farm and she often told the story of trading the family Model A automobile for a cow so the children would have fresh milk.

In Jacksonville, she met John Sobola in the laundromat where she worked, eventually marrying the career Navyman from Cleveland on January 27, 1951. Wini travelled with her husband to California, Whidbey Island, Italy, Spain, New Jersey, and Morocco before settling in Southern Maryland on his retirement in 1966. They were together for 47 years until his death in 1998.

She was a founding member and secretary of the Lexington Park Rescue Squad Ladies Auxiliary before joining the squad as only the second female member. She eventually became a lifetime member. After moving to the area, Wini and her family joined the congregation of SAYSF Bible Church where she remained an active member until her death. There, she taught Sunday School, Pioneer Girls, Vacation Bible School, and sang in the church choir. In addition, she worked at Jacob's Well Christian Bookstore, was a Teacher's Assistant at Park Hall Elementary School, and worked as a Respiratory Therapist at St. Mary's Hospital. She lived in California, MD for the last 15 years.

She is survived by her two sons, John Sobola of California, MD and Michael Sobola of Arlington, VA; granddaughter Shamaia Sobola of North Carolina; granddaughter Ally Sobola of Arlington, VA, granddaughter Sidney Sobola of California, MD and grandsons Cedric, John Jared and Josiah Sobola also of California, MD.

In lieu of flowers, donations can be made to the St. Mary's Hospice Program or the St. Mary's Hospital Cancer Treatment Center. Arrangements by Brinsfield Funeral Home.